You know what day it is, its Friday. That means only one thing, I'm hooking up with
Sunday
over at
Adventures in Extreme Parenthood
for today. Go on over and see how the rest of us play with Ryan.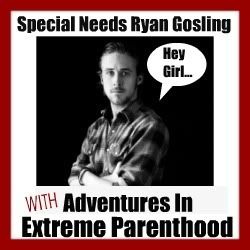 Ever have one of those days where you want it to end before you even get out of bed? Yeah, that was this past Sunday. I think it all started on Saturday because I washed my car. I never wash my car. But this past Saturday, I got a hair lodged up my ass and decided it was car washing day.
Five-fifteen Sunday morning I get bombed with both kids, "Mom! There's thunder! And lightening! AND WE'RE ALL GONNA DIE! Scoot over."
Yeah, five-something in the morning.
Then, "OMG today's the party for Jack. We have to get ready for the party. GET UP. We have to get ready for the party!" Forget about all the thunder and lightening and the dying stuff. We have a party to go to.
The party was not till four PM. It was five AM.
All day, "The party, the party, the party's today! Hey mom what time is it now? Is it time for the party? Now what time is it? Party time yet?"
And all day I kept thinking, "I know these kids, I'm not too fond of these kids. This is going to end in tears." But since this was the only party he's been invited to all year, we had to go. Saying NO was simply not an option.
I pulled this out of Alex's backpack around noon. You can call it a tornado, I call it foreshadowing.
Look ma, a meso-cyclone!
And then we went to the party, and true to form, the kids were little shits. Of course they were. Playing this game where you had to have a pass-code and they wouldn't let you in if you didn't know the pass-code. Thing is, there was no pass-code. They just said "no" to letting Alex join in.

I caught one kid in the act and hissed, I actually hissed at him, "You let him in, do you hear me? You let him in."

But it was too late and the damage was already done, I wanted to gut-check every one of those kids. Hard. Gaw, they were such little assholes. All I kept thinking was, "Is it wrong to gut-check an eight year old and if so, what would the jail time be? I need to see if I can be away from my kids that long...."

Alex was sad, hurt and confused...a meltdown ensued. We went home but not before we ate our own bread sticks, watched a movie and gave everyone the proverbial middle finger---all out front of the play gym where the party was still going on.
When we were leaving it started raining. I got pinged there was a severe thunderstorm warning and right when we got home, this happened:

(If you can't click on that because you're at work or if noise is an issue, I get it. They issued a Tornado Warning and I was on the front porch tooling around with the kids.)

And then we lost our minds running down to the basement. We all ran into each other and I would have been laughing, if it weren't for the simple fact we were running for our lives.
Other than by the grace of God, I still don't know how we made it downstairs.

Then I had another heart attack when Alex started running back upstairs to protect his i-thing from the tornado.
You know how weird it is to see your street being called out as being in the direct line of impact? Trust me when I say you don't want to know that feeling. Ever. Well, that's what my husband said. I was outside taking pictures. You sooo know I was.

Then when it was all over, and the tornado fizzled, we went to bed but not before I had this vision of Ryan:
Why yes, I do believe that would do the trick.
And that is the true story of my last Sunday.

Thankfully there is nothing on the agenda for this weekend. I suspect the kids will be bored and over it by dinnertime tonight...