Today's Friday so can I get a big AMEN? In the blogging world, or in the cool blogging world, that means we're doing horribly fun things with Ryan Gosling. Visit
Sunday
over at
Adventures in Extreme Parenthood
and see what I'm talking about.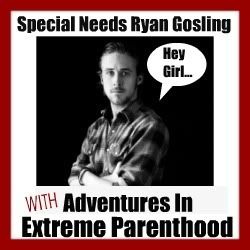 Alex's teacher met me at the flagpole for pickup yesterday afternoon. I'll let that sink in for a moment.
Having the teacher come out and meet me at the flagpole used to make my stomach swirl with nausea. A whole host of scenarios ran through my mind. Did he lick someone? Did he Tae Kwon Do anther kid? Did he correct a teacher or tell them their lesson plan was inferior and subject to his review? Or did he stop, drop and roll minus the fire?
You just never know.
Anyway, his teacher comes out to meet me every day now because we're in a sort of holding pattern. We're stabilizing somewhere between full on benders and a variety stims. He has about six stims going right now so in my mind I call it a six-pack. Honestly, we're just biding out time till school lets out.
Fourteen days left if anyone's interested. And yes, I'm counting each and every last one of them.
So she comes out of school with a small smile on her face, kind of laughing, so I knew it couldn't be that bad.
Alex? Well, he wasn't smiling. "Mom, Mrs. Smith says I said a bad word."
Fuck.
"Err, you said a bad word?" Now, a whole host of bad words went through my mind, rapid fire, in under a tenth of a second. We all know I'm pretty fluent in the base vernacular of the English language.
My next thought was, "Please don't let it be the F-bomb, please don't let it be the F-bomb."
"Yeah Mom, Mrs. Smith says I used a bad word but its not fair. You use it at home all the time."
Oh fuckety-fuck-fuck.
It was the F-bomb.
I'm so screwed.
"I said I was pissed off and I got in trouble for it. You told me it was OK to say I was pissed off when I was at home but now it's not OK to say it at school."
Oh thank you Baby Jesus.
Now his teacher turns and looks over at me, one eyebrow raised, questioning, "You let him say that at home?"
I turn and look at Alex and suddenly he had these big eyes, kinda like this:
Well how can you resist that? I couldn't lie and blame it on him. I had to own it.
"Well, yes, I do let him say he's pissed-off when he's at home. See, for the longest time Alex couldn't identify his emotions and had a hard time articulating how he was feeling. Gaw, he just now started putting words to his emotions. So when he was angry we made a scale from one to ten. One was irritated and ten was super mad, like he was pissed off and ready to explode. I thought it was important for him to correctly identify his emotional state, as he was feeling it, so we could work on the right calm down methods."
And that's the God's honest truth.
With that I give you my main man, Ryan.
On a different note, I wanted to thank
Sunday
for having me to her place yesterday. It was a blast. I want also thank those of you who went over and took the time to look, see and comment. You have no idea what that means to me as your friendships are what pull me through.
If you still want to see it, I have it linked
here.
And you totally know when his teacher was talking to me up there I was all, "I'm so going to blog about this." And I did.