Today's Friday. I know I'm stating the obvious but there it is. This is the day we play around with Ryan Gosling like we're married to him and it's all good. Not at all like that nutter
Cody and his four wives
over on TLC. That dude and his family make me look like a model citizen.
Seriously Cody? Get a haircut. I don't know how they all willingly bang you but they do.
Anyway, please go over and see Sunday at
Adventures in Extreme Parenthood
and visit the other blogs joining in today and don't forget to wear your Poise. I promise you will piss your pants.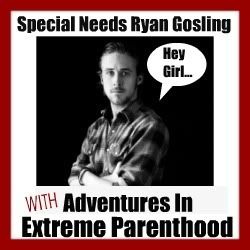 So what you don't know is that we will be working our way towards Sanibel tomorrow. I may or may not go silent for a good two weeks. It really depends on the Internet connection, whether or not my kids will let me have a few minutes of alone time (on the toilet) with the i-Pad and if anything blog-worthy happens.
If it's like the last few times we've been to Sanibel, then I suspect we'll be harassing the TSA agents in no time flat. If you don't think we have a good time go
here
and click on all the "here" links within that post. You will soon realize how lucky you are not to be me while on vacation.
That and because I saved a robin's nest while trimming the shrubs, my back is still hurting like a mother and I'm on a number of high quality pain killers. The upside is, I don't give a shit what happens,what we pack or if I wind up sitting in a jail cell for taunting the TSA.
I call it better living through Chemistry. My husband calls it the quietest the house has been in months.
Whatever.
Oh the joys of travel, back pain, and three kids...
Here's the catch though, I'll be relying on you guys. See, if I don't check-in on Facebook or make myself know in some fashion, I'd like bail money sent to my PayPal account by Tuesday.
Oh fuck it, who am I kidding? If I'm in jail it may be the first time in ten years I get eight hours of uninterrupted sleep, I get to lay flat on my back without having sex and I generally can sit motionless for vast stretches of time excluding the cavity search which I may, just may, enjoy.
I take it all back. A short stint in the slammer may be just what I need....
Note: I do not have a PayPal account, I just made that up. And yes, I'm totally drugged right now. Can you tell?
Like I've done on past trips, feel free to go wild in the comments or on Facebook: Four Sea Stars. Let everyone know I have herpes and went to seek help or something like that. I know you'll come up with something good, I have faith.